Have you started to think about your next family vacation? Whether it is Pesach or maybe you are already thinking about summer, I have some tips for you.
Over Chanukah, my family went on a quick getaway to Caesarea.
Staying at the Dan Caesarea – a three-generational win! 
Tip #1: Location
How long can you spend in the car with your family?
56 minutes was the perfect amount of time for us.
The Dan Caesarea is located between Tel Aviv and Haifa.
Situated close to the ancient port on the Israel Mediterranean coastline.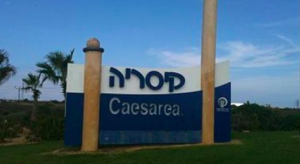 Tip #2: Rooms
Our family was comfortable in the Ceasarea Room.
Each room included the choice of a king sized bed or a double bed and a couch with a pull out double bed.
The bathroom featured a spacious bathtub.
Trust me you will need it after you return from your "nature walk" through the aqueducts and swamps at Nachal Taninim.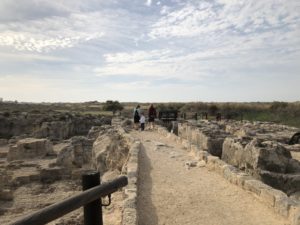 With plenty of closet space, a television, and a view of the grounds, we were ready to move in for the week.
Tip #3: Food
When traveling with the family, I try and wake up early and sneak out of the room without waking anyone up (read: my five-year-old) in order to maximize the pleasure of a fresh cup of coffee and beautiful scenery
Coming down to breakfast at the Dan Caesarea was a pleasure.
The fully staffed dining room featured friendly waiters who greeted me with a bright smile and a delicious cup of coffee.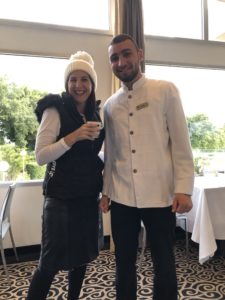 The dining room overlooks the scenic grounds and the pool.
The buffet was overflowing with generous servings of a traditional Isreali breakfast.
Fresh salads, aromatic pastries, eggs, and a plethora of cheeses.
Time for the Health Club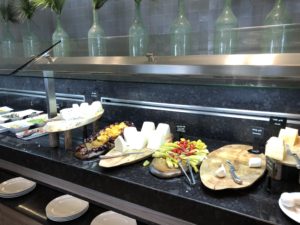 Soon (five minutes later) my kids came down and were excited to fill their plates with the delicious foods.
My kids (okay – me)  loved the freshly made waffles, pizza, and toasts.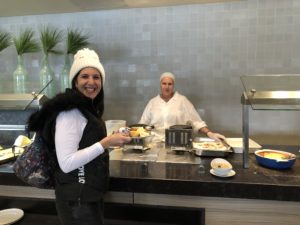 Tip #3: Activities
Our family enjoyed eating breakfast altogether.
But, after multiple spills and good-natured talking (read – yelling), we all needed some – (a lot) of space after the meal.
Our kids were content to spend some time with the experienced staff at Danyland.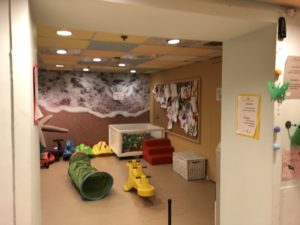 Adult Time
No one under 16 allowed.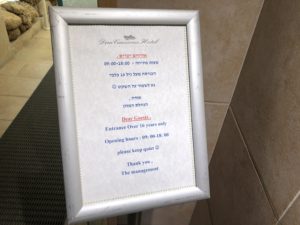 Some of the adults had time for a run on the treadmill at the health club.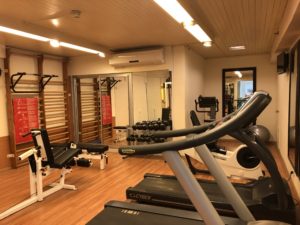 Others were pampered with a Swedish massage at  Whispa.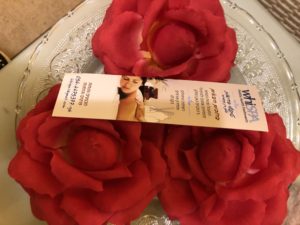 Tip #4: Grounds
After the adults had "adult time" and the kids "kid time" it was time for more quality family time.
As it was the winter, we were unable to swim.
Is there a room for me in July?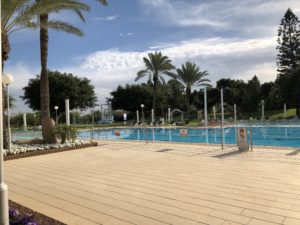 Both the kids and adults enjoyed the playground and a game of mini- golf.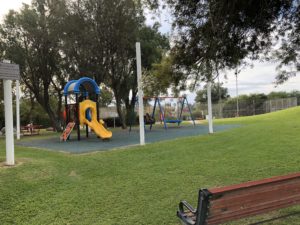 The family athletes sweated on the tennis courts, soccer field, and basketball courts.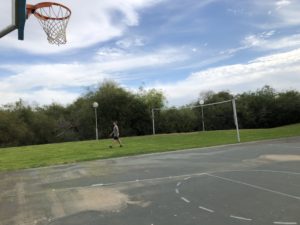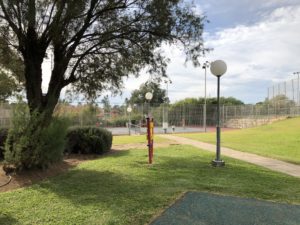 Some played ping pong.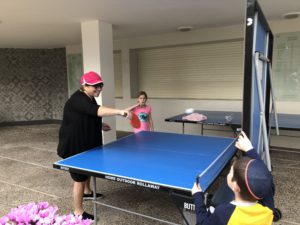 Afterwards, we chilled on the hammocks.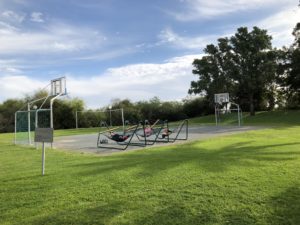 Tip #5: Friendly Staff
Yes – the food was awesome!
Yes – the grounds were stunning!
Yes – I loved my massage!
But, what was really impressive to me was the cooperative and friendly staff.
From the moment we pulled up to the hotel, the staff aimed to please.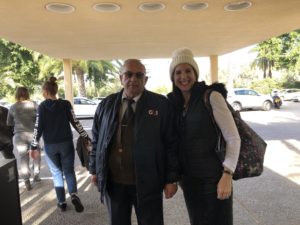 That is a smile from an Israeli Saba.
Refills of coffee, fresh lemonade and water were extended.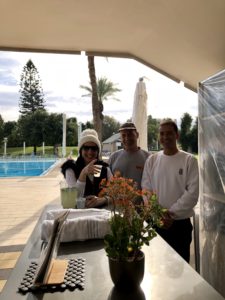 The Sufganiyah Story
We spent the sixth night of Chanukah at the hotel.
The lobby was festively arranged for candle lighting with a large Chanukiah (menorah), candles and plates sufganiyot.
My son was excited to light the candles.
Or eat 10 sufganiyot.
Under the watchful eyes of hotel staff members, Charlie was staring at the plates of sufganiyot.
I quickly removed my unhappy child from the plate of donuts and explained that he needed to wait.
A thoughtful member of the Dan Cesearea staff came over to where we were sitting and personally handed Charlie a sufganiyah.
Charlie appreciated your flexibility, and so did his family.
Great Getaway – Thanks
Our mini-break to Ceasarea was fabulous!
I hope my tips will help you plan your next multi-generational family vacation.
Thanks, Granny and Grandpa for treating us.
Special shout out to Galita Modi'in for dressing me! I loved my holiday outfits.
Kol hakovod to Dan Hotels for the terrific multigenerational family vacation.
Happy Chanukah
How did you spend Chanukah with your family?
What are your tips for planning a multi-generational family vacation?
What are your tips for planning a multi-generational family vacation?
Yocheved Pianko Feinerman is "leaning in" and embracing the harmony and chaos of raising four "spirited" children, juggling an active career as an educator, and writer while planning the next 24-hour getaway with her husband.   
Facebook https://www.facebook.com/highenergymom, Instagram http://www.instagram.com/highenergymom, and Twitter http://www.twitter.com/highenergymom1.
If you have a scoop to share with High Energy Mom hit her up on facebook or twitter or shoot her an email highenergymom@gmail.com.