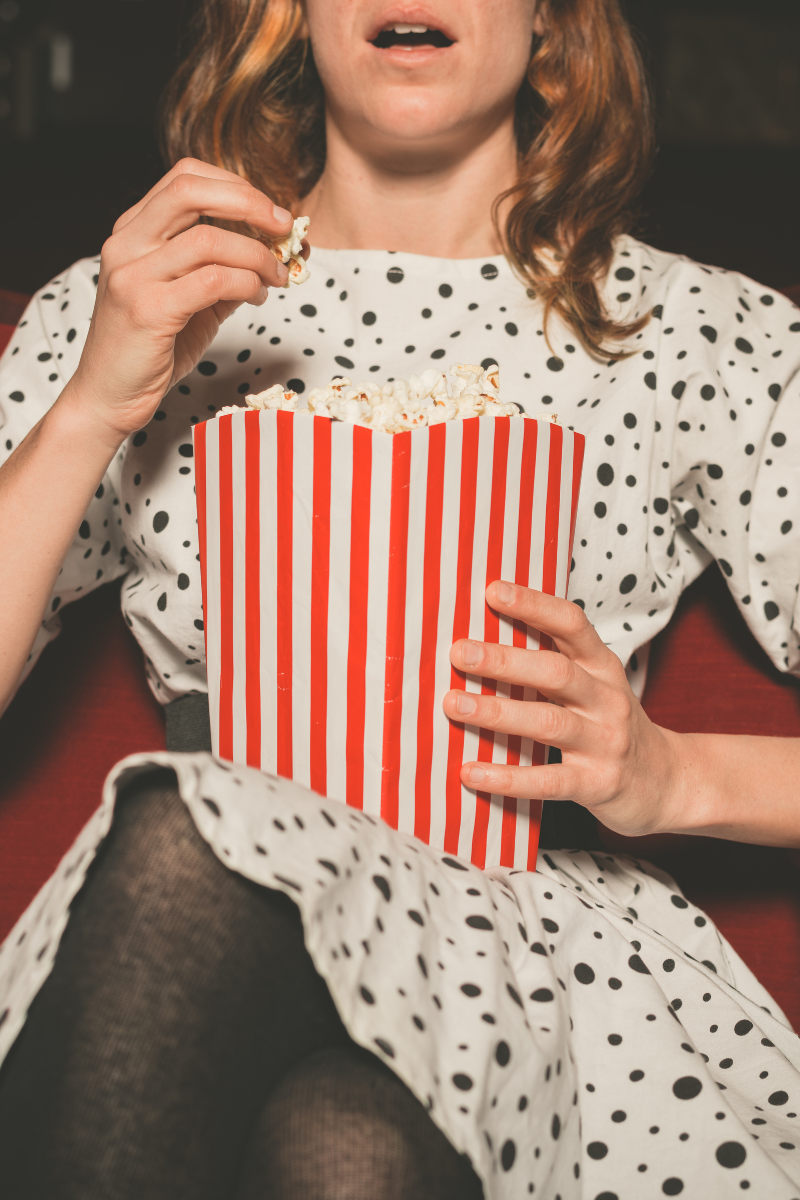 I know what you are thinking, how could the protagonist in Director Ra'anan Alexandrowicz's movie, a 24-year-old preacher from the imaginary village of Entshongwen, be me, a 41-year-old filmmaker, suburban wife, and mom. We don't look alike – we are of different genders. We were born in other parts of the world. We pray to a different G-d. We wear different clothes. Listen to different music. 
And yet – I am James, and James is me. Who is this "James" I keep referring to, you ask. 
Meet James, the Pilgrim
James (Siyabonga Melongisi Shibe), the protagonist of James' Journey to Jerusalem, is the son of a Zulu preacher and the next in line to become a pastor, sent from his African village to pilgrimage to the holy city of Jerusalem. The villagers sing, "Jerusalem, you are our destiny—the place where our dreams lie." But, upon landing, James finds himself in contemporary Israel instead of a land flowing with milk and honey. 
Upon arrival at the airport, James is stopped. Interrogated by a cynical immigration agent (Yael Leventhal), who mocks James' naivety, not believing for a moment that James is a pilgrim. Instead suspects him of being an illegal worker. Played comically by the actress, her character silences James repeatedly – refusing to hear his pleas, to believe his dreams. No Jerusalem for James – James is sent to jail. 
She is doing a good thing – right? An honorable thing. She is clearing the street of undesirables – of the "Africans" people who have come to Israel to steal our jobs. Take food out of our children's mouths. Disrespect the country that our grandfathers and grandmothers sacrificed so much for. It's her job to tell him the truth. To wake him up. 
I mean, why else is he here – you can imagine, she asks herself. What could be here – everyone we know – at least the smart ones that we know are trying to leave – are trying to check out of the country, not check in. Silicon Valley, New York, LA, Miami, not Jerusalem. Their money grows on trees. There is the opportunity – not here – not in this cramped office – with yellowing posters of travel destinations. What could James possibly want here? Israel is a wasteland – a swap filled with malaria. Surrounded by dangerous enemies, the Arabs. 
And this is just the beginning. Like Abraham before him, James faces test after test. 
Test After Test
Shimi (Salim Daw), a contractor of foreign workers, releases him on bail to work with him. However, after James explains that he did not travel to Israel to work, Shimi clarifies that since he paid for his release, James now owes him. So, James interrupts his journey to work for Shimi. 
Shimi tries to gain a profit at James' expense and makes him work for other people as well, and Shimi's wife sees him as a kind of amusement. Salah, Shimi's father, soon discovers that James is exceptionally lucky rolling dice, and he decides to exploit this to win in backgammon games against his friends. James hopes to pay his debt to Shimi so he can finally reach Jerusalem, but as time passes, he learns how to conduct with the locals. Salah keeps telling good-hearted and guileless James, "Don't be a frayer (sucker)," Eventually, James ceases to be one.
Stop: This Movie is Racist
At this point in the movie, one of my classmates stood up, frustrated, "why are we watching this movie? This is making fun of my Iraqi family members." Such classmate is the friend (if I may be so bold as to actually call him that) that often encourages me, similar to the fictional character of Salah, to not be a "frayarit," to stand up for myself, fight back, and say no, stop being so nice. So interested, stop caring so much. He was the one that cheered me on after I stood up to the class bully at 2 am, after working on the set for 18+ hours- and said "enough" and got in my car and drove away – good, he cheered. You won't get by in this society by acting like a frayer- if you want respect – you have to earn it – how does one achieve it – by standing up for themselves. So see, you don't have to take it – good for you – don't let people take advantage of you. 
Another classmate taught me the art of "minimum al haminimum" stop jumping up – stop seeing what needs to be done and doing it. Who cares? It's not your problem – let him figure it out. Tafkidim Achi, another phrase thrown around in film school, stay in your lane. That's not your problem. Don't worry about others – worry about yourself. Bekitzur (in short), you are a friar(it), and friarits won't succeed here. The only way to grow (to survive?) -is to be like us.
Are You A Frayer?
Director  Ra'anan Alexandrowicz, in an interview with Liza Bear , explains that James, "… symbolizes for me our confusion with ourselves at the moment. It's about this concept of frayer, a Yiddish slang word for a sucker. I think it comes from German, actually. Salah is teaching James not to be a frayer—to be strong, to not let go of anything—just as he did his own son. But afterward, his sons—his real son and his adopted son, James—turn against him, and Salah finds himself in a weak position with them. At one point, James tells him, "Look, you can get a million dollars for your plot of land. Why don't you take it? Don't be a frayer. Take it." It's the other way around now. But Salah thinks, "If I take the money, I'm frayer. What do I gain from it?" 

 

This is perhaps something the Israeli consciousness should understand: that now we are trapped. Perhaps our way out is through being precisely the opposite of what we believe—the opposite of being strong. So yes. James changes into someone who won't be a frayer anymore, then makes enemies and hurts others. But then, at the film's end, he wakes up and finds who he was and what he is now. And this is something that I hope for us very much.

When you look at the political problems in my country, we've been trying to solve them for decades by not being anyone's 'frayer.' It's not working out for us. In the long term, it doesn't work for any society. You make some short-term benefits, but in the long term, you pay a high price for not being a 'frayer."
For James and I and other Pilgrims, there is no shortage of tests as we journey to Jerusalem. We left it all, our homeland, our families, our material comforts, for the Promised Land. And like the spies in the desert, we see it all. You're not in Kansas anymore, Dorothy. 
We get it. James got it. 
Soon, he, too, discovered that to survive, he couldn't beat them. James must join them. So, he starts managing his foreign worker friends and soon becomes a cheap labor contractor like Shimi. James buys himself nice clothes, a mobile phone, and a TV. As a result, he forgets about the pilgrimage. Eventually, James remembers the original reason for arriving in Israel, but it is already too late – he is arrested by the immigration police and transferred to an Israeli prison. The prison is located in the Russian Compound in Jerusalem, so as he is handcuffed, James finally gets to see the city to which his village prays.
The Audience Responds
James' Journey to Jerusalem, received critical acclaim both in Israel and abroad. A winner of the Cannes Film Festival in 2003, the Toronto International Film Festival in 2003, London Film Festival in 2003; Jerusalem International Film Festival in 2003 (Special Jury Prize; Best Actor Prize); and many more. 
The audience finds it very amusing, his corruption, his accommodation to the system. But his change is necessary to a certain extent because we don't live in imaginary villages. 
Robert Colson, an assistant professor of interdisciplinary humanities at Brigham Young University International Cinema, said that the movie "takes what seems like a light-hearted approach to a serious topic. James goes through much of the movie with a naïve hope and a belief that what he's going to find will meet his expectations despite the reality he faces. On the one hand, we see this Pilgrim's view – a hope to find something. On the other hand, the film shows us the reality of things. It takes James a while to see the truth of his situation: detention, racism, manipulation, and language and cultural barriers. The film shows, through a migrant youth, the contrast between the disparity of what one hopes to happen and the reality of experience."
Like James, I, too, experienced the disparity between what I hoped to happen and the reality of the experience. For thirteen years, I have been absorbed into this foreign culture – a culture quite different than the one for which my younger self prayed, hoped, and yearned. This Pilgrim refuses to give up.  This Pilgrim's journey continues towards Jerusalem.
Director Ra'anan Alexandrowicz, admits that "Some levels of the film may not be easily understood outside Israel. For instance, James's most substantial connection in the movie is with Salah, his boss Shimi's father; Salah's character is an homage to a character in an old Israeli film, Salah Shabati(1963), who's a Moroccan Jew. Salah is an Arabic name. In my movie, the actor who plays the part, Arie Elias, emigrated from Iraq in 1950. He knew how to do Shakespeare in Arabic. Once in Israel, Elias's status as an actor was denied because, at the time, Arabic was not accepted as a cultural language. So Arie had a challenging time immigrating to Israel. And the character he's playing also has this history for Israelis. So the old immigrant from 50 years ago is now teaching the new immigrant— James represents the development of the Israeli dream, how we came with very idealistic and pure dreams, about how we were going to develop ourselves as a country. And somehow, on the way to making these dreams come true, he loses his way. James is no longer dreaming of Jerusalem but of a new television. But he's still talking about Jerusalem. So he symbolizes for me our confusion with ourselves at the moment."
Who She Was and Who She Is Now
We, Pilgrims, recognize the conflict. We, Pilgrims, internalize the dichotomy. We Pilgrims try to fit in. We, Pilgrims, are desperate to fit in. Yes. We understand that change is necessary. That absorption into a foreign culture is predicated upon internal and external strength. 
We Pilgrims recognize that we must never forget the genesis of our pilgrimage and have the power and conviction to continue.
I am James and James is me.
We Journey to Jerusalem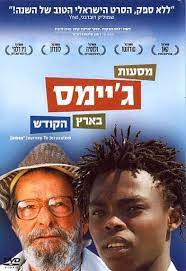 Title: James' Journey to Jerusalem
Year: 2003
Genre: Comedy, Drama
Director: Ra'anan Alexandrowicz
Writers: Ra'anan Alexandrowicz and Sami Duenias
Stars: Siyabonga Melongisi Shibe, Salim Daw, Arieh Elias
Original Score: Ehud Banai; Gil Smetana; Noam Halevi
Cinematography: Shark De Mayo
Editors: Ron Goldman