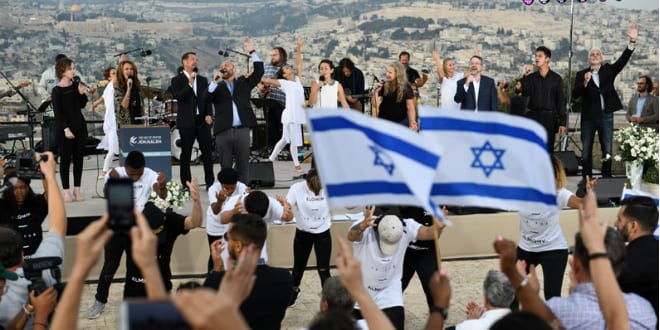 ‎״שֶׁשָּׁם עָלוּ שְׁבָטִים שִׁבְטֵי־יָהּ עֵדוּת לְיִשְׂרָאֵל לְהֹדוֹת לְשֵׁם יְהֹוָה׃
‎כִּי שָׁמָּה יָשְׁבוּ כִסְאוֹת לְמִשְׁפָּט כִּסְאוֹת לְבֵית דָּוִיד׃
‎שַׁאֲלוּ שְׁלוֹם יְרוּשָׁלָ ִם יִשְׁלָיוּ אֹהֲבָיִךְ׃
"Pray for the well-being of Yerushalayim; May those who love you be at peace." (Psalms 122 2-6)
🇮🇱 The Star of David waving in front of Temple Mount. The blast of the shofar piercing the Jerusalem skyline. The nations of the world gathering in person and participating in the live broadcast. 🇮🇱
Recognition and apologies for our shared horrific past. Promises for restitution and pledges to become Watchmen of the Wall: guarding us and our land. Prayers petitioning Hashem for peace in Jerusalem.
One after another I met you, such wonderful and inspiring men and women so committed to the Jewish people and our land of Israel. Sarah, Donna, and Margaret- thank you for your devotion, commitment, love, and support. With the help of Hashem, I hope we can continue growing together.
👏👏👏 Thank you to the Eagles' Wings staff for their dedication and hard work in putting this sacred event together each year. Looking forward to next year!
To my Jewish brothers and sisters
קול דודי דופק
"The voice of My beloved knocks"
A little background: The Day of Prayer for the Peace of Jerusalem is a prayer meeting organized by Pentecostal evangelists Jack W. Hayford and Robert Stearns through their organization "Eagles Wings". They annually invite people around the world to pray for Jerusalem on the first Sunday of every October, close to the time of Yom Kippur.